Stay In Control Of Your Own Security
How much do you value your privacy?
With all the recent reports of burglaries and break-ins at Hotels in the recent weeks, it's important now more than ever to keep yourself protected from outside threats barging in your home unexpectedly.
Well, with our Pocket Lock you never have to worry about intruders stepping inside your house ever again. This simple, yet effective travel door lock was brilliantly engineered to prevent any outside jimmying, maneuvering, or attempts from breaking into your home.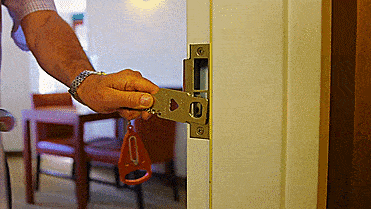 And even if you are not doing anything that requires privacy, you may still just want to have some alone "me" time which is perfectly fine. But, here's the bummer, you cannot have that if your doors don't have locks.
So what should be done to get privacy from factors like people barging in your bathroom or bedroom including your kids, getting some private time behind a locked door so no one can come in, and getting a jimmy-proof door at hotel/motel rooms?
Well, that's where the Pocket Lock comes in. You can just use this small pocket-sized travel door lock and install it at any door you want to lock, and no one will be able to come inside unless they have a panzer.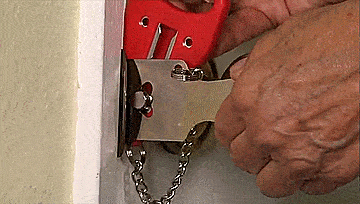 With its universal design, our Pocket Lock can fit on any size door with ease. Plus, its quick installation procedure makes it a walk in the park to use. Simply hook the small opening, on the steel travel door lock, to the strike of the door, slide the steel nub attached to the plastic handle through the steel opening to lock it in place, and voila!
Whether you're out traveling and staying at a hotel or just want an extra layer of protection at your house from dangerous intrusions, our Pocket Lock will take your safety to the next level!
Features of portable door lock 
Made with high-quality carbon steel for a durable finish
Keeps you protected from break-ins
Universal door lock design
Compact size fits easily in your pocket or purse
Keep yourself protected from break-ins with our Pocket Lock and order yours online today!
Literally Effortless Installation and Removal:
The best part of having this small but highly durable pocket portable door lock is that installing it in any door is a breeze. Firstly, it is made from chrome-plated carbon steel that ensures its durability if someone tries to break it down.
Furthermore, its unique shape that is meticulously engineered according to the thickness and shape of virtually all types of doors enables it to work as a lock for any door.
There is no effort involved when it comes to installing this portable door lock. You just need to hook the small piece of steel that comes with it to the strike of the door and just close the door.
Now just slide a steel nub present in the plastic handle into the handy hole. And that's it! You have got yourself a highly durable and jimmy-proof instant lock.
The same goes for the removal, all you need to do to remove it is to just pull out its rod, pull off the handle and open the door. The lock will come in a second.